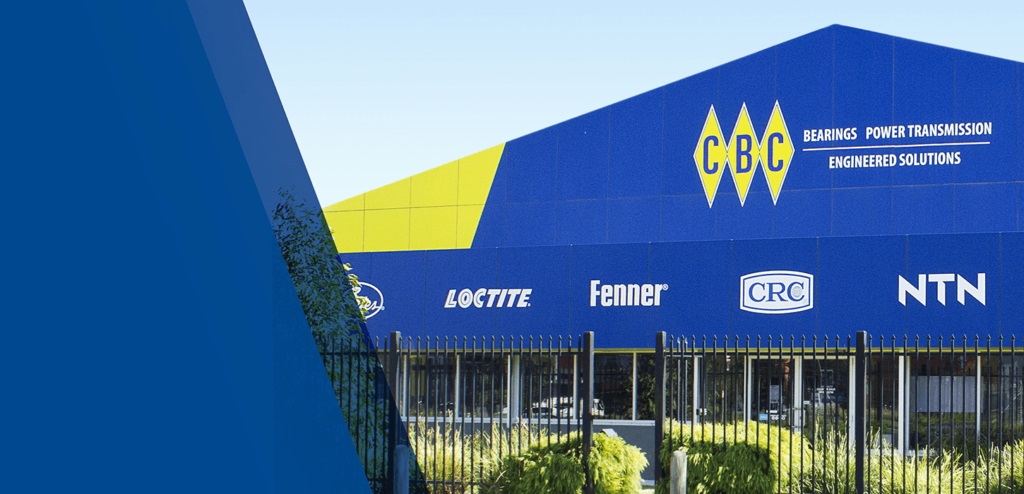 About
Our Heritage
The father-son partnership of JJ Martin-Weber and Ron Martin-Weber, OA (Order of Australia), established Consolidated Bearing Company Pty Ltd (CBC) in Sydney, Australia, in 1954, when JJ spotted a need for industrial supply and services following the end of World War II. In the 1960s, CBC expanded beyond the New South Wales border, opening new branches in a number of strategic locations.

Demand for bearings and related products accelerated throughout the 1980s and 1990s, prompting the company to invest in computer technology and upgrading properties to house its ever-expanding product range, which now also includes power transmission.

In March 2017, the company, then called Inenco Group, entered a strategic partnership with Genuine Parts Company (GPC) and its subsidiary, Motion Industries. GPC acquired a 35% shareholding in Inenco Group, with the option to increase that stake to 100%.

In July 2019, the strategic partnership between Inenco and GPC became a full acquisition. Inenco Group changed its name to Motion Asia Pacific in July 2020. This was the first step toward co-branding Motion Asia Pacific (Motion) with our iconic businesses, including CBC, BSC, SAECOWilson, and Hardy Spicer. This created one excellent brand which is definitely here to stay.


"To be a better distributor of bearings and power transmission than any other company in Indonesia by providing superior products and innovative service"
The 1950s brought increasing demand for an array of new components and technology. JJ Martin-Weber, observing the lack of available supply and service facilities to meet this demand, forms Consolidated Bearing Company Australia Pty Ltd (CBC).

CBC moves from Spring Street in Sydney's central business district, to larger premises in the suburb of Leichhardt in the Inner West of the city.

• Ron Martin-Weber continues the task commenced by his father JJ, adding international manufacturers to the portfolio and increasing CBC's reach across Australia.

• The first branch outside of New South Wales opens in Adelaide, South Australia, with a second branch opening soon after in Prospect. A Victoria office opens in Maidstone, before moving to larger premises in 1964.

CBC's strongest and longest-running partnership with NTN Corporation of Japan is formed.

CBC opens its first Queensland office in South Brisbane, with a Queensland head office in Albion.

• The Rothe Erde® sole agency agreement is formed. This partnership has become pivotal to many major ventures, not least the CSIRO Australia Telescope and Australia's largest offshore and tower crane manufacturer.

• A third South Australian office is opened in Richmond.

• The company expands into Newcastle, New South Wales, and a new facility is opened in Albion, Queensland.

• Victoria's second sales office opens at Moorabbin, following the construction of the new CBC New South Wales head office in Auburn, Sydney.

• CBC begins manufacturing bearing housings and forms the Transmission Bearing Company (TBC).

Expansion continues, with sales outlets opened in Vermont and Thomastown, Victoria.

The new national headquarters opens on a three-acre site in Kingsgrove, New South Wales, after a major relocation from Drummoyne.

• The first regional outlet opens in Geelong, Victoria, followed closely by those in Gladstone, Queensland and Canberra.

• CBC joins the technology revolution and upgrades to IBM System 32 computers from a punch-card IBM 444.

The national headquarters at Kingsgrove are extended to 6,000m2 to house the ever-expanding stock range.

The decentralized computer system is upgraded with the installation of an IBM System 36, enabling national stock holding to be visible throughout the expanding organisation.

NSW operations move from Auburn to a brand-new purpose-built 4000m² facility at Eastern Creek in Western Sydney.

• A complete networked computer upgrade to IBM AS/400 forms a totally national stock-sourcing environment.

• CBC Queensland begins supplying PT Freeport Indonesia. This relationship will grow over the next decade and lead to Inenco's formation of PT CBC Indonesia in 2009.

Power transmission products are introduced into the CBC product range to complement the strong bearing brands.

Further expansion is needed at Kingsgrove, and the warehouse is extended from 6,000m2 to 10,000m2 to house the 45,000 lines of stock. This expansion will allow CBC to store up to 3 million components

Ron Martin-Weber appoints Mitchel Martin-Weber as Chair and CEO of the group of companies, known as Martin-Weber Holdings.

Martin-Weber Holdings becomes Inenco (Industrial Engineering Components) Pty Ltd, a holding company established to simplify the structure of the organisation and its numerous acquisitions – CBC Bearings is part of this group.

Following in the footsteps of their father, Mitchel and Karl Martin-Weber become directors of CBC. Managing Director Norm Luff retires, and Brett Bartholomew takes over the role.

Aubusson Bearing Centre, a long-time distributor of CBC Bearings in Dubbo, is acquired.

• George Khoury is appointed CBC Managing Director.

• Inenco acquires Motion Industries, which has a strong market position in the mining industry, from Wesfarmers in September. Its seven branches are merged into the CBC business.

• Inenco acquires Goldfields Bearing Supplies, a one-branch operation in Kalgoorlie, Western Australia, which is integrated into the CBC network.

Richard Jenman is appointed CBC Managing Director.

• A financial shared services (FSS) team for CBC accounts payable and receivable begins operations in Adelaide, focusing on uniformity and efficiency across the business.

• Project Align begins, aiming to improve customer service and sales by advancing supply chain capabilities with improved processes, information, technology and resources.

• Inenco acquires Bearing Dynamics, a four-branch operation focused on the coal-mining sector, which is integrated into the CBC business.

• Inenco enters a strategic partnership with Genuine Parts Company (GPC) subsidiary Motion Industries, with a 35% shareholding. The partnership combines Inenco's market-leading technical knowledge and customer focus with Motion Industries' international and operating expertise, benefiting CBC's customer offerings.

• Inenco and GPC finalise an agreement to undertake the biggest IT project the group has ever seen. Known as Project eVolve, work commences on the implementation of a new enterprise resource planning (ERP) system (eCOS) across CBC.

• CBC Penrith is the first branch to go live with eCOS, the new ERP which replaces IMAS.

• Inenco and GPC's strategic partnership evolves into a complete acquisition on July 1, 2019. This ends the Martin-Weber family's 65 years as sole shareholders, and marks an exciting future for CBC.
Our Purpose & Values
PT CBC Indonesia exists to keep our customers' plants and equipment operating in an efficient and sustainable way.

SAFETY
We focus on safe work practices and act safely at all times.

PEOPLE
We embrace diversity and help our people to grow through leadership, learning and a commitment to continuous improvement.

INTEGRITY
We are totally ethical, and can be trusted and relied upon to do whatever we say we will do.

SERVICE
We deliver a responsive, efficient, local, yes-can-do service.

COMMUNITY
We care for our environment, and work collaboratively with all stakeholders: people, customers, suppliers, and the wider community.
You can rely on us to deliver the right product, at the right price, when you need it! Your success is our success.