PT NUE is the specialist division of CBC Indonesia, and focuses on the high-quality manufacturing of engineering parts. Its state-of-the-art workshops have design capabilities and skilled machine operators serving a broad range of industries, including mining off-road vehicles, steel, and pulp and paper operations.
CBC's total Machine Shop capability provides customized engineering solutions not available from any other Indonesian bearing company.

Our state-of-the art computer-aided design (CAD) drawing capability enables us to create designs to suit your specific requirements. We have developed solutions for a number of specialised applications, including: conveyor pulleys, tunnelling cutter heads, track rollers, swing gear cases, sealing assemblies, and housings.

In addition to a large range of imported standard solid housings, we have an extensive range of standard solid and split housings (ranging in mass from 0.5kg to 3.000kg), a full range of hydraulic nuts, and an extensive range of wire rope sheaves.

With two workshops in Surabaya and Balikpapan, NUE offers a range of options from heat-treatment furnace and specialized welding capabilities to the manufacture of high precision machine parts and assemblies, computerized numerical control (CNC) machining for volume orders or complex profiles, as well as a broad range of jobbing machines for low volume or one-off jobs. The Balikpapan workshop has a modern balancing machine for the manufacture of new drive shafts and the repair of drive shafts and fans.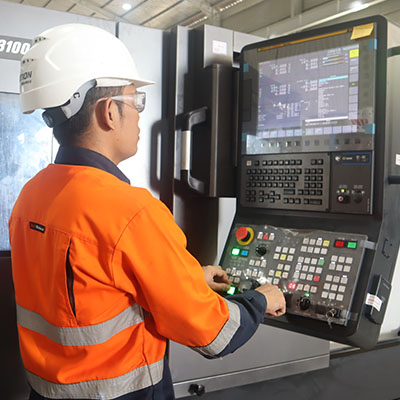 "Our customers are the reason we're still in business, and our job to serve our customers to the best of our ability. In this pursuit, everyone must be involved. When this happens, and it's truly collaborative effort of all departments, then no one needs to worry about `who should be caring for the customers' because the answer is that everyone should be."
- Joshua Chang -
Sales Support Manager
CBC Engineered Solutions
Product Application Engineering
Installation & Commissioning
Condition Monitoring – Oil Sampling
Special Purpose Manufacture
Component Standardisation